Step Into Meditation
Learn how to meditate at home with our most comprehensive guided meditation course. This relaxing audio download will teach you how to meditate using a modern approach that will appeal to both the complete beginner and seasoned practitioner. The language is down-to-earth and the exercises are easy to follow.
More information...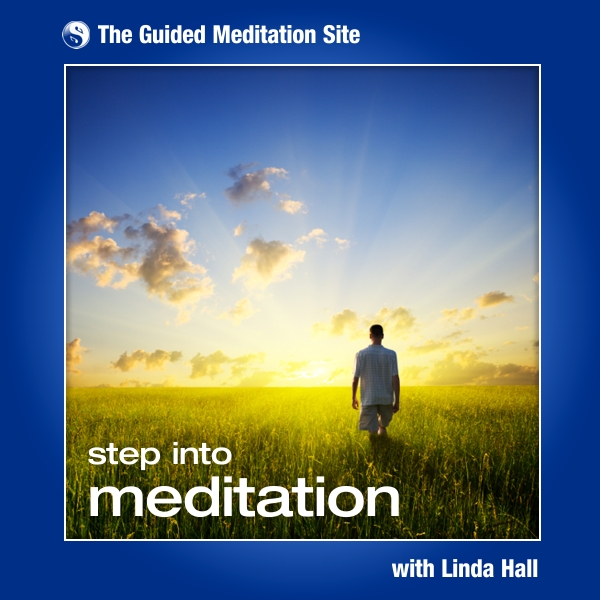 Duration: 3 courses, 38 Tracks, 211 minutes
Author:
Linda Hall
Delivery: Immediate MP3 Download - Worldwide
Price: $34.95
All prices are in Australian Dollars
Handy currency converter
Please note: This Guided Meditation is for personal use only.
Step Into Meditation really is a wonderful way to learn effective meditation techniques that will make a positive difference to your life.
This course was designed to replace the need for you to attend formal meditation classes. Learn at your pace in the comfort of your own home. Just pop on your headphones and listen as you are guided by an experienced, professional meditation instructor (and one with a very lovely voice too!)



What happens inside Step Into Meditation?
Step Into Meditation is a three part course. Each course is around 70 minutes long.
Each course consists of a number of tracks, some of which are purely educational, some of which are experiential. First you will learn, and then you'll be guided through meditation exercises so that you can apply what you have learned.
You'll be taken step-by-step through the process of meditation and, most importantly, you'll learn how to use relaxation and meditation techniques to enhance your everyday life. This is a journey of self-discovery that is enriching, informative and very relaxing!
Course 1 (70 minutes)
1. Introduction
2. Approach and attitude
3. Softening the mind
4. Meditation on softening the mind
5. Day-to-day awareness practice
6. Grounding
7. Meditation on grounding
8. Day-to-day awareness practice
9. Resting and releasing
10. Meditation on resting and releasing
11. Day-to-day awareness practice
12. Letting go of what draws you away
13. Meditation on letting go of what draws you away
14. Day-to-day awareness practice
15. Centering
16. Meditation on centering
17. Day-to-day awareness practice


Course 2 (75 minutes)
1. Being in the here and now
2. Meditation on being in the here and now
3. Day-to-day awareness practice
4. Softening the breath
5. Meditation on the breath
6. Meditation on softening the breath
7. Receiving and releasing with the breath
8. Meditation on receiving and releasing with the breath
9. Day to day awareness practice
10. The wise witness – allowing things to be as they are
11. Meditation on allowing things to be as they are
12. Day-to-day awareness practice
13. Softening the heart with loving kindness
14. Meditation on softening the heart
15. Day to day awareness practice


Course 3 (67 minutes)
1. Putting it all together
2. Long meditation
3. Setting up a regular practice
4. Short meditation for everyday life on grounding and centering
5. Short meditation for everyday life on getting the bigger picture
6. Conclusion


Get to Know More About Step Into Meditation
Learning how to meditate is really quite easy so long as you have the right teacher. In fact, a good meditation teacher can usually train beginners to meditate in just three classes.

But what if you don't really want to drive to classes? What if you don't even have time?

Well the internet is a great place to quickly find information on how to meditate, but this can be a blessing and a curse. There are so many different teaching styles, so many different philosophies and so many different meditation methods that it can be tricky to find a meditation technique that you trust and that works for you.

We understand. We know that you're probably not interested in learning how to stand on your head, or how to breathe through one nostril. You're probably just trying to find a straightforward way to meditate that is easy to understand and easy to implement.
• You're looking for a course that will teach you to relax – to really, deeply relax.

• You're looking for a simple way to quiet your mind.

• You value your health, and perhaps you would like to be smiling a little more often.

• You've had enough of stress, and you know that your life will be much better when you finally do something about it!

• You already know a little about the benefits of meditation, and you like the sound of it, but you just haven't taken that first step yet...

We regularly meet people who want to make meditation a part of their life, but say, "I'd love to learn meditation but I just haven't gotten around to it."

We hear this almost every day - from our website visitors, from our own family and friends, and from people we meet in passing. So what stops most people from taking that first step into meditation? Here are the top three answers:

1. They didn't have the time or motivation to go to classes.
"I'm so busy, I just couldn't find the time on top of everything else I do".


2. They tried to learn meditation on the internet, but they couldn't quite put it all together. 

"I read some articles and watched some YouTube videos, but some of the information was contradictory and I just couldn't figure out which bits were important and which bits to skip over."


3. They couldn't find a meditation teacher that they trusted, or they worried that meditation classes would be a bit too "weird".

"I'm not into all that mumbo jumbo, I just want to know how to de-stress and quiet my mind".


So for everyone we've ever met that can relate to these sentiments, Step Into Meditation is for you.

It's easy to use
One of the best things about this guided audio meditation course is that you can learn meditation in your own time at your own pace, and you can can revisit your classes whenever you want.

It's down to earth
Step Into Meditation uses very down-to-earth techniques and offers practical advice that really makes sense.

You'll really experience meditation
While this course is very educational, it's not all about learning. It's about experiencing meditation too. So as you progress from one track to the next, you'll learn about meditation techniques and then you will have the chance to experience them yourself as your guide leads you through each relaxing exercise.

A Modern Approach to Meditation
Step Into Meditation takes a fresh look at meditation, brings it out of the traditional doctrine based paradigm and moves it into the field of body/mind awareness and psychology. It demonstrates how meditation can be a powerful self-help and self-development tool that's invaluable to anyone who wants to manage stress levels and get to know themselves better.



Comments & Reviews
"This is gold dust! The course is soundly constructed, straightforward and gloriously unpretentious, presenting a simple way to engage with the profound aspects of life without stepping into religious concepts. The language is really clear and accessible. It's so simple and wise it could be used widely in schools."
Heather Peace, writer and editor

"Your meditation courses have changed my life. I have always been very stressed and was rushing around every minute of the day. I'm a much more mellow person who doesn't let the little things get to me. I take time to notice and appreciate life around me, and I now feel happy with myself and can cope with most problems that come my way."
Jan Tyrrell, Kent

"You feel you are getting a massage for your mind, body and soul. Her method of teaching meditation is so accessible."
Elaine, Surrey

"Linda has a wealth of experience and combines a variety of techniques and traditions in a way that is deeply healing. Her voice is warm, genuine and nurturing and she offers much down to earth wisdom you can use on a daily basis."
Sarena, Somerset