Guided Imagery For Groups
If you want to use guided imagery for groups, then these essential tips will help you avoid common problems and ensure that you and your class have a sublime experience!


Quiet Please!
Your choice of venue for your guided imagery group is of great importance. Ideally your venue will be as quiet as possible.
There's nothing worse than being interrupted in the middle of a guided imagery meditation by sudden loud noises – or worse still – persistent noises that won't go away!

I participated in such a class once. Halfway through the guided meditation, which was being conducted in a private studio in a retail district, a passerby stopped outside the front door and proceeded to have a loud conversation on her cell phone.

Everyone was jolted out of their deep state, but we continued on with the class, hoping that the young lady and her phone would soon depart.

To our dismay, she did not! For the next ten minutes she laughed and joked and swore, unaware that she was standing right next to a large sign that read "Quiet please – meditation in progress".
This brings up to another great tip for ensuring quietness. If you are in an area that is not entirely private, be sure to put up a "quiet please" sign. It might not always work (as this story reveals) but it will most of the time.



Not Too Bright
Also of great importance to your venue - perhaps even more important than quietness - is the ability to dim the lights.
Group participants often find it much easier to connect with their inner world of imagery and feeling when they are in a dimly lit room.


I'm amazed at how often guided imagery groups are conducted in brightly lit rooms. This is really not ideal for guided imagery classes, so take the time to create a scene of dreamlike tranquility – lower the shades and turn down the lights.

If you are unable to block out excess light, then it's a great idea to have soft, comfy eye-masks (the kind that people use for sleeping) available to those who want them. Some people find these soothing to wear even when the room is darkened already!



Using Music
Some soft meditation music can add a tremendous amount of tranquility to your group meditation. Not only does it help to create a serene mood, it will also help to mask any unwanted background noises.
Music is not essential, but more often than not the experience of guided imagery for groups is enhanced by the inclusion of music.
Note: If you are a professional therapist and you play music to groups on a regular basis, then you must use royalty free (copyright free) music. In most countries it is illegal to play CD's publically without paying fees to the record label that produced them. The easiest way around this is to simply purchase copyright free music so that you never have to pay any ongoing fees.



Performance Tips
There are two main ways to conduct a guided imagery class for groups. One is to read aloud from a guided imagery script, the other is to play a CD recording of your guided imagery journey.
The benefits of reading from a script are:

a. The experience is a little more personal and your listeners may connect with you better.

b. You can pause if necessary, and you are free to be more spontaneous and intuitive with your guided imagery.
The benefits of playing a CD are:
a. You can be absolutely sure that there will be no hiccups with your performance (assuming that your CD isn't covered in scratches - there's nothing worse than a skipping CD when using guided imagery for groups).

b. If your class members enjoy the guided imagery journey, then you can offer them copies of your CD so that they can experience it all over again in the privacy of their own home.



Don't Miss These Essential Resources
Follow this link for free guided imagery scripts.
If you'd like more great ideas for preparing a room for guided imagery groups and meditation classes, then check out these articles on how to design a meditation room.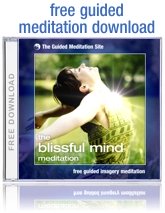 Return from guided imagery for groups to the guided imagery homepage 

Return from guided imagery for groups to the Guided Meditation homepage


This article is copyright protected, however you may republish it online or in print media provided that you include the following credit, including the active link:
Article by Christopher Lloyd Clarke from www.The-Guided-Meditation-Site.com.
---
Keep Exploring...