Spiritual Connection Music Bundle
*Please note: All music on The Guided Meditation Site is for personal use only.
Music has long been used as a source of spiritual inspiration. It has the power to open your heart, awaken your mind and bring you closer to your highest self. This selection of enlightening music downloads will soothe you, uplift you and encourage a deeper connection to your true spiritual nature. 



Includes 6 of our most popular meditation music downloads
valued at $71.70
Bundle Price: $29.95 (save 59%)
Delivery: Immediate MP3 Download - Worldwide
All prices are in Australian Dollars
Handy currency converter




What's included in this music value bundle...

---
Ascension
Go on, close your eyes and listen to the entire 3 minute sample and experience this euphoric meditation music for yourself. Ascension will uplift you to an elevated state of consciousness whilst relaxing you to your core.
More information...


Preview Ascension
Enlighten Me
Awaken your mind, open your heart and connect with the spiritual master within. This dreamy, meditation music will take you there.
More information...


Preview Enlighten Me
Heaven's Gate
So beautiful. So inspiring. Heaven's Gate will open your heart and fill you with a sense of serenity and spirit. This music is calming and uplifting, and it has been known to bring a tear to the eye of some listeners.
More information...


Preview Heavens Gate
In Spiritus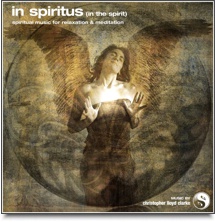 This soothing, heavenly music will open your heart and help you to bridge the gap between your earthly self and your spiritual self - it's all about connecting with the highest aspects of your being.
More information...


Preview In Spiritus
The Ecstasy of Being
This sublime music will take your breath away. Ethereal soundscapes bloom into choral crescendos before receding into soft, celestial passages that envelop the mind and open the heart.
More information...


Preview The Ecstasy of Being
Vision Quest
Deeply relaxing. Truly meditative. Vision Quest is a musical experience that will be deeply satisfying to anyone who appreciates minimalistic, spiritual music that has been designed to encourage deep states of consciousness.
More information & previews...


Preview Vision Quest
---
Please share this page