Mastering The Law of Attraction


If you are someone who seeks a more abundant future, I have three questions to ask you about yourself and how you view your life. Questions so crucial, they could turn your life around in the coming weeks, months and years.

So take a moment to breathe in, and clear your mind. Now just nod your head if any of these questions resonate with you…

1. Do you believe your wealth and abundance are directly related to your state of mind and consciousness?
2. If yes, what if there was a process to enhance your state of mind and consciousness, so from this moment onwards you could improve your ability to attract wealth? Would this interest you?
3. And if you knew this process only took a few sessions of practice, but would benefit you for the rest of your life… would you make the time for it?


If you answered 'yes' to these questions, then I invite you to explore the following audio programs. We've narrowed down the selection to just three - three that feature some of the most powerful Law of Attraction teachers on the planet right now.

Having a great teacher to learn from is one of the most important aspects of mastering The Law of Attraction. 

Which one resonates most strongly with you?



---
Unlimited Abundance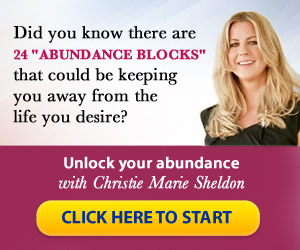 Commit to liberate yourself from the shackles on your energy and immerse yourself into an energetic transformation. Christie Marie Sheldon's Unlimited Abundance Home Training Program provides you with the tools to break free from the Abundance Blocks in your life and promote a conscious mind shift to enable you to hone your financial intuition and allow you, and others around you, to flourish.
More information...

---
Creative Visualization with Lisa Nichols

Creative Visualization is a collection of 12 guided meditation audios delivered by Lisa Nichols, based on elements from Shakti Gawain's ''Creative Visualization'' and Silva Method. Lisa's teachings will take you on an ''experiential carpet ride'' into your future from a very organic, practical and tangible place of touch, smell, feel and experience.
More information...

---
Keep Exploring