Deeply Relaxing Free Audio Guided Meditation
If you are looking for a free audio guided meditation, then you are most certainly in the right place! Allow me to introduce you to... 




'The Blissful Mind Meditation'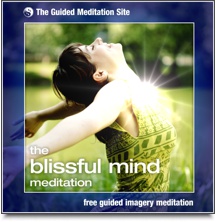 This guided meditation is powerful, profoundly relaxing and very easy to follow. It is super effective for both experienced meditators and for people who have no experience with meditation. 

If you have never listened to a guided meditation even once before today, then this is the perfect way to start. Take a seat, relax, and enjoy the effortless experience of being guided to a blissful place of serenity and joy while listening to relaxing music and the sounds of nature. 



If you have listened to guided meditations before, or if you practice formal meditation on a regular basis, then you're going to love this guided meditation too. This guided meditation utilizes the power of guided imagery and nature sounds in very effective ways, and will help you to open your heart to experience a very natural state of inner bliss. 



Get your free audio here
Just fill out the form below and we will email you the download link to The Blissful Mind Meditation, some free meditation music, and a copy of our free eBook "Designing a Meditation Room".


---
Keep Exploring...
Please share this page